Why are land prices still increasing?
As part of my constant research on the Australian economy and property market, I had a chat with representatives of some of the peak industry bodies recently – namely the Master Builders Association (MBA), and the Housing Institute of Australia (HIA). The MBA is primarily an organisation of builders who have a achieved a certain accreditation and do construction in the residential, commercial, and civil fields.
The HIA focuses only on new residential developments, but its membership is much broader and commonly includes anyone involved in the process of converting raw land into a residential built form – so many include not just builders, but developers, surveyors, hydraulic engineers, architects, road engineers, landscapers, etc. The benefits of being members is access to data and research about emerging trends, best practise, code of ethics, etc. Resimax Group and its relevant entities are member of both the HIA and MBA (Victoria branch) plus other peak industry groups such as Real Estate Institute of Victoria (REIV) for the relevant businesses within the Resimax Group.
I had a chat with Tom Devitt, one of HIA's economists, and asked him to share some of their latest research with particular reference to Victoria. He confirmed that "we have had the biggest boom in detached home building (ie landed property) and renovation in Australian history, with construction costs rising, build times blowing out, and enormous pipelines of building work to complete".
So, even though Australia wide the property market is still in deficit (ie undersupply of properties), the HIA statistics show that we recently came close to building enough properties to match the demand. The previous Australian Federal Government's HomeBuilder stimulus scheme had a lot to do with this, however due to lack of materials, shortage of skilled workers, supply chain issues and delays due to COVID lockdowns – the supply of new houses will again fall back to lower levels.
According to HIA forecasts, in Victoria new landed property commencement have fallen by about 15% since the 2020/21 peak and will continue to fall by about 10% each year for the next few years. So the housing undersupply will continue, and as there is so many houses to build (some already started, others still waiting to start), that with the increase in prices and holding costs it will further underwrite existing property prices at the 'entry end' (ie the lower quartile) of the property market.
An interesting chart Tom shared was that according to the Australian Bureau of Statistics (ABS), even though during the 21 months of pandemic, Melbourne lost about 1% of its population (mostly to Queensland which had less severe lockdowns), private new house sales boomed in Victoria. Many economists have called this the 'great spreading out' ie moving out of inner-city non-landed properties to middle and outer areas for more space, plus living less densely without other house mates. This is backed up by ABS housing finance data showing the biggest group obtaining mortgages were 'other owner occupiers' (i.e., people selling their existing home and buying a new one better suited to their lifestyle). This was followed by investors, and lastly the smallest group was first home buyers. This was also reflected in the Corelogic data that the Melbourne 'dwelling price index' for houses (+11.2%), was much higher than units (which are mostly found in and near the CBD at +7.1%)
One of the great charts that Tom shared was the growth in land prices:-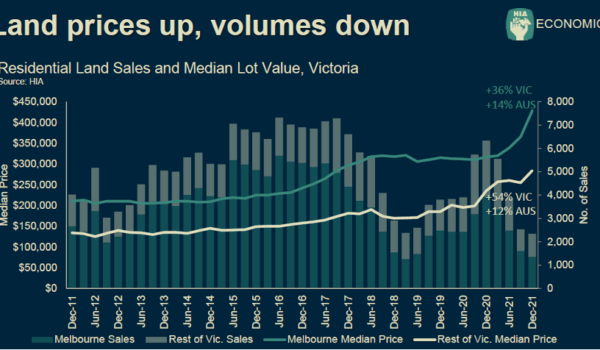 Even though the volume of land block sales had dropped from the peak, the price of land blocks was still rising (this is due 'price control and staged development') – in fact land in Victoria was growing at more than double the average for Australia. One of the reasons that Tom noted was that it was taking much longer for raw land to become a titled block of land – in fact it has risen dramatically from approx 7 years to now 10 years. Also, according to HIA's research, approximately 50% of the block of land is made up of Government charges. Just these two factors alone will keep blocks of land rising steadily into the future and help underwrite the value of properties at the 'entry level'.
One of the most surprising charts was that lot sizes had suddenly surged during the pandemic. This was again due to the 'great spreading out', where people could now work from home either full time or a few days per week and wanted larger blocks of land to build larger homes and enjoy more of their private amenities (e.g., swimming pools, gardens, etc), and have more space between their neighbours. However, as some people found out, this located them too far away from services such as childcare, shopping, schools, medical, etc. Many people couldn't afford these larger blocks, especially with the threat of rising inflation and interest rates and were happier to spend less to be better located in a master planned community close to essential services, with plenty of space and shared amenity (that someone else did the maintenance on!).
Resimax Group specialises in master planned communities in the outer growth areas of Melbourne. As an experienced developer it follows staged developed, price control processes. In its Eynesbury development, which is rich with amenity, it has just had approval from Melton council to reduce the block size in an old previously approved section of the development down from 700m2 to 300m2+ range. This will make buying a block of land and building a house much more affordable for many new residents.
Disclaimer: This article is for general information purposes only and should not be taken as advice. Always seek professional advice from suitably qualified professionals familiar with your situation and goals.
—————————————————–
For lots of other great content, head over to the Resimax Group Investor website: https://resimaxgroupinvestor.com/
Not a member yet? No problem, join for free to get member access to all our webinars, articles and everything property.
—————————————————–
Steven Molnar is Head of Research and Education for Resimax group. With over 25 years in property and finance in Australia and internationally, he brings a unique perspective to each interview with interesting guests and property insights. Resimax group is one of Australia's largest private property developers, Resimax Group Investor is headquartered in Kuala Lumpur MY.
——————————————————–